With most things, the less something costs the worse the quality. With musical instruments this can be especially true, with a budget instrument sounding horrible, breaking often, and making learning more of a struggle than it has to be. With that in mind, we went on a quest to find the best cheap ukulele money can buy.
We aren't going to lie to you and say these instruments are just as good as ones that cost $500 or more, but they are great to learn on and will do nicely if a budget Ukulele is all you can afford!
| | | | |
| --- | --- | --- | --- |
| | | | |
| | Hola! Music HM-21NT Soprano Ukulele Bundle | | |
| | Donner DUS-10P Soprano Ukulele | | |
| | EveryJoy Soprano Ukulele Beginner Pack-21 | | |
| | POMAIKAI Soprano Ukulele Beginner | | |
---
Want something a little nicer? Check out our list of best beginner ukuleles!
Why Get a Cheap Ukulele To Learn on?
There are two things a Ukelele has that beat getting a guitar for a newcomer. The first one is the price. A typical guitar costs $150 or more while a cheap uke can be obtained in some places as little as $20.
The second thing is that with their short stock, with soprano ukes typically 21 inches in length and their nylon strings, learning to play a ukelele is a heck of a lot easier. The size, extra two strings, and length of the guitar make it more intimidating than a uke.
Lastly, a budget ukulele is perfect for kids. The soprano size fits nicely in their hands and the ukulele's bright sound is fun and inviting for a child.
---
The Four Best Cheap Ukulele!
So, with all that out of the way and said, lets get to our four favorite cheap ukes!
Hola! Music HM-21NT Soprano Ukulele Bundle
There is plenty to like in the Hola Music Kit, and we named this one our Best Cheap Ukulele. The maple body is well constructed, especially for an instrument in this price point and the walnut fingerboard and bridge are pieces you'd often find on ukes that are 3x the price.
As most other cheap ukuleles you'll find, you have the option to get this instrument in a variety of colors, which is great if you're looking for a budget uke for a child!
The starter kit isn't quite as complete as some others on you'll find, but does come with 2 months free online music lessons!
PROS
Maple Body
Walnut Bridge and Fingerboard
2 months free online lessons
Great Price!
[amazon fields="B07TGJCWQL" value="button"]
Donner DUS-10P Soprano Ukulele
Another great value ukulele starter kit, this one brought to you by Donner.
Just like the Hola! we previously listed, this model has a maple body that is painted in various colors for a little splash of fun!
This kit also has the benefit of having a tuner, which for many beginners makes getting, and staying in tune significantly easier.
The big downside to this instrument is many buyers reported trouble with keeping the cheap nylon strings that come with the uke in tune, so you may need to upgrade those sooner than later.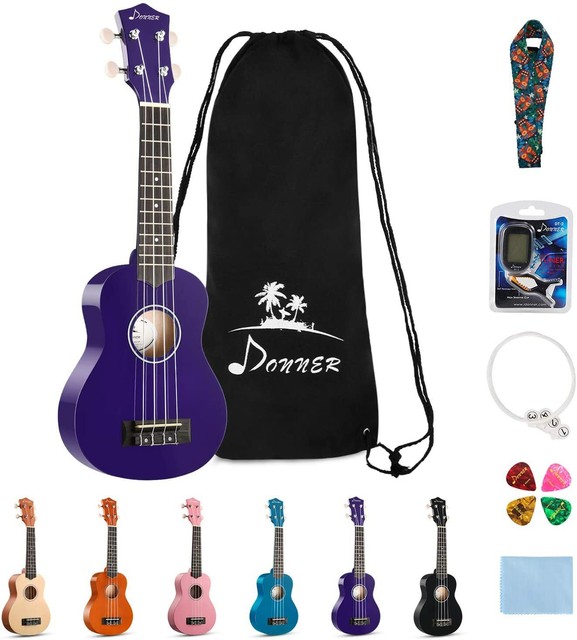 PROS
Maple Body
Great Value
Tuner included
Fun Color options
CONS
Cheap strings that will need upgraded
[amazon fields="B01LYBZ4MJ" value="button"]
EverJoy Soprano Ukulele Beginner Pack-21 Inch
The last starter pack on our list, we actually like the components of this pack better than the previous two instruments!
The songbook especially is a nice touch for those starting to learn music and wanting options to practice with.
The instrument is made out of a basswood that is not specified as to the type, and the fretboard is listed as a blackwood. These woods will not resonate as well as a maple, mahogany, or other traditional wood will. Reviews did say the wood was quality and sounded great despite this!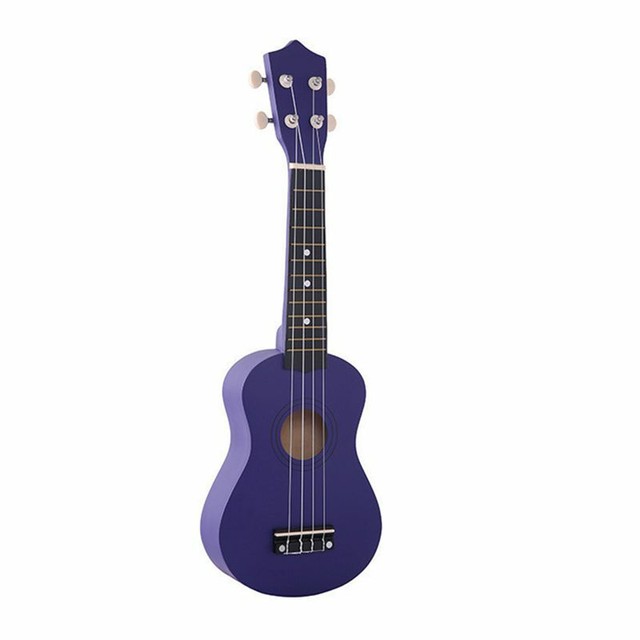 PROS
Fun color options
Great starter kit
Perfect Budget or Starter Ukulele
Nice tuner
[amazon fields="B01N0FSG7G" value="button"] 
POMAIKAI Soprano Ukulele Beginner 21 inch Mahogany Ukalalee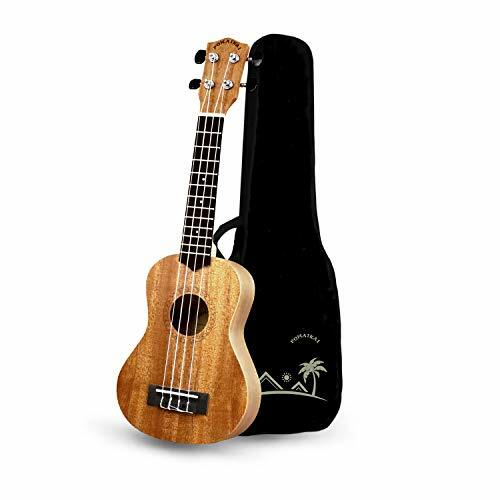 The only instrument on our list that does not include a starter kit, the Pomaikai is also our favorite uke on in the budget category.
With a mahogany body, neck and headstock combine with a set of carbon nylon strings, this budget ukulele doesn't sound like a cheap uke. The tone is also helped by a real bone nut that produces a great tone.
If you don't need the tuner, extra strings, and other peices that come with the other starter kits, this instrument is the best budget ukulele and one that will last you long after you advance from the beginner stage.
We named this our affordable ukulele. While not perfect and you can find ukuleles at a cheaper price, we chose the Pomaikai as our affordable ukulele because of the attention placed on the seated and finishes finished frets, decent strings, Mahogany body and walnut fingerboard.
PROS
Mahogany Body and Neck
Maple fretboard
Sound like a much more expensive instrument
Best cheap ukulele we found!
[amazon fields="B07TSH3B5J" value="button"]
---
Budget and Cheap Ukulele Buying Guide  
It's somewhat difficult to produce a buying guide for discount ukeleles because they vary so much in quality.
A lot depends upon whether the person who will be playing it is an adult, a teenager, or a five-year-old. If this is for a young child, it may be used more as a toy, rather than an adult who is actually trying to learn to play.
If a ukulele is being purchased for a young child, then the cheaper the better, with the only real question primarily being how good are the strings. And this may come as a shock to some, but you can purchase better strings for a cheap ukelele and have an instrument that may last you a year or two before upgrading.
Adults and teenagers, if they are serious about playing the ukelele may choose one of the better ukes on our list, get the best possible strings for it, and then in a half a year, upgrade to a more permanent model.
That being said, look for a budget ukulele made with mahogany or maple and with rosewood or maple fretboards. The strings that often come on cheap ukes are not the best quality, so if the strings once stretched still stay out of tune, buy better strings at a music store.
As to buying a ukulele stand, we recommend a folding wood stand. There are plenty of wooden mahogany stands out there, for as little as $10, but they break easily as they are mostly mahogany laminate over pressed cardboard.
---
The Final Note
If you've never played ukulele before, or are shopping for a kid, a cheap ukulele might be a great choice. That being said, you don't have to settle for a poor sounding, low quality option. You now have four great budget ukulele options and the buying guide will help you evaluate other instruments!