There are hundreds of brands making Ukuleles right now. Which one should you buy from? Tough question. Instead of shopping around endlessly, why not make your own ukulele? This is an option that many don't even consider, but can be a fun, rewarding experience.
If you're not a woodworker or a carpenter this could seem like a daunting task. The good news is that several companies have designed kits specifically to give you the parts for construction, while letting you do the dirty work yourself.
To start we'll look at the best ukulele kits currently on the market, and then dive into some tips to make your ukulele building experience easier and more fun.
Why Make your Own Ukulele?
Why should you make your own ukulele? Well, for one thing, it's fun and rewarding to make yourself something that you will use for years and years. Often, our most valuable possessions are something we built or we worked hard for. Why not make your uke one of those things?
You can also be creative and design your ukulele however you like it, and it can make a great conversation starter. In some cases, it can even be cheaper to build your own ukulele than to buy one, and by building one you can control the quality, which isn't the case when it comes from a manufacturing facility.
Overall, if you have the best ukulele kit you can build yourself a great ukulele you will cherish for years, an building a ukulele will be simple. Now the only question is how to pick the right kit for you.
---
The Best Ukulele Kits
---
The Zimo DIY Ukulele Make Your Own Ukulele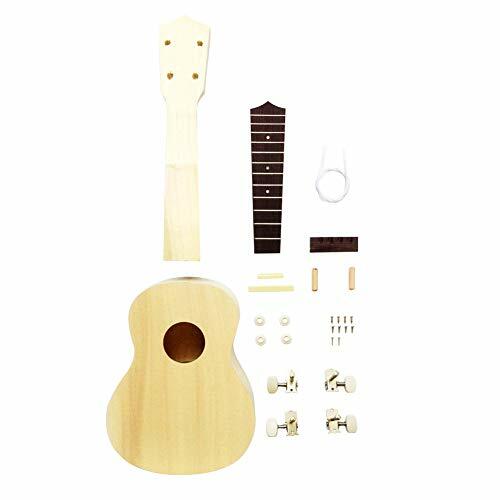 The Zimo DIY Ukulele Make Your Own Ukulele is a good example of a DIY ukulele kit that anyone can put together and is a great project for any child or adult.
A more advanced builder might want something more challenging though, as it doesn't need much work to be finished.
Although instructions supplied with the kit are vague, there are many YouTube demo videos on the product, and the finished result maintains a great sound and tone. Reviews are positive across the board.
PROS
Variety of Sizes
Great Value
Choice of tonewoods
Easy assembly!
CONS
Poor manufacturer instructions
[amazon fields="B01D74TYA2″ value="button"]
The StewMac Build Your Own Concert Ukulele Kit
The StewMac Build Your Own Concert Ukulele Kit is definitely for more advanced builders. From the strings to the bridge, you'll be putting this instrument together yourself.
Although the instructions are easy to follow, it is a much more involved build. While for many this will be a positive feature, those looking for a quick, easy assembly should chose the Zimo.
This is also the most expensive kit on our list, but it produces a ukulele with a great sound and reviews are stellar across the board. If a player is invested in the ukulele, this is a great kit to buy.
PROS
Great finished product
Machine tuners
5* reviews across the board
Detailed Instructions
CONS
Most expensive kit
Most complication construction
[amazon fields="B077KC5JV8″ value="button"]
The OriGlam 21 Inch DIY Ukulele Kit
The OriGlam 21 Inch DIY Ukulele Kit is the budget option on our list and is the cheapest ukulele kit.
At only $20, there is poor quality control in this kit, which is to be expected. While a buyer could get lucky and get a good-quality kit, many reviews picture split or broken wood.
If you've never built a uke, looking for a gift for a child, or even a first instrument this is a good option that will save you money if it doesn't get used. This is not for serious ukulele players, but that doesn't mean it is a bad option for everyone!
PROS
Value Option
Simple Instructions
First instrument/Toy
CONS
Quality control issues
Not for intermediate/advanced players
[amazon fields="B07JK3MHPN" value="button"]
---
Building Ukulele Tips
Of course, you always have the option of building your own ukulele entirely. If you really want to be involved in the production process, the best thing to do is to entirely construct your own instrument and can be the best ukulele kit option since you choose the quality of your parts.
If you are not an experienced builder, this task may be tricky, but there are resources for this, too. The book "Make Your Own Ukulele: The Essential Guide to Building, Tuning, and Learning to Play the Uke" is a great example of one of these resources. It details tips on how to build, what wood to pick, and even a pattern for a Ukulele.
This book may even come in handy in construction of the kits listed before. If you are interested in seriously playing the ukulele, in the end, this book is a must. It holds all sorts of useful tips. It can teach you how to tune and play your ukulele as well, and it's much more complete than any virtual or online manual that you could find. For less than $20, it's a deal for all of the useful information that it holds.
The Final Note
We think both the Zimo DIY Ukulele Make Your Own Ukulele kit and the StewMac are great options to make your own ukulele from. The Zimo will be better for intermediate to beginner players and builders, while even advanced players will be happy with the sound quality of the StewMac.